PROFILE
name : amsy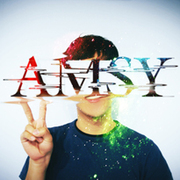 hello!
my name is masaya eiraku
I am graphic designer,
living in Tokyo Japan.
Please E-mail here when you want to contact.
E-mail:amsivee@gmail.com
My creative activity begin in Fukuoka, Kyushu in 2000 with a club event called MAG and regular live painting shows. In 2003, I take charge of artwork design for FLC skating team in Fukuoka, creates DVDs, clothing etc. Later the same year I enter "DESIGNING exhibition" sponsored by Fukuoka City and my artwork is one few selected. I relocated to Tokyo in 2004, participate in "Sakuragicho on the wall" in January, 2007, and continues to do wall painting.


2000
・start creative activity in Fukuoka,Japan with a club event "MAG" and live painting shows

2003
・take charge of ardirection and design for "FLC" skating team in Fukuoka,Japan.

2007
・participate "Sakuragicho on the wall" in Yokohama,Japan.

2009 
・CUT&PASTE JAPAN 2D Design Grand prize winner
・CUT&PASTE Global championship semifinalist
・Swatch MTV Playground Art battle winner

2010
・enter "SICF11"@Spiral Hall sponsored by Wacoal Art Center(Tokyo)
・+81Magazine graphic passport portfolio viewing award(Tokyo)
My Favorite Award

2011
・+81Magazine graphic passport portfolio viewing award@Pompidu Museum (Paris)